Shopping Cart
Your Cart is Empty
There was an error with PayPal
Click here to try again
Thank you for your business!
You should be receiving an order confirmation from Paypal shortly.
Exit Shopping Cart
Characteristics of Damage Hair
Dull
Dry
Coarse
Frequent use of oil does not help maintain moisture and/ or the effects do not last long
Tangles easily, difficult to comb when wet
Frizzy
Breakage is severe on spots
Visible split ends
Scalp may be unhealthy
May have excessive dandruff
Causes and effects
How did your hair become damage?
Make a detailed list of daily/ weekly hair routine the use of curling iron, permanent hair colour also relaxer etc.
Damage hair can be a vicious cycle but you can break the cycle by following a hair regimen and choosing the products need to repair damage caused.
Start with a good trim or hair cut
use a protein treatment immediately to stop breakage
Followed with an extended break of of at least 6 weeks.
After your break your break wash your hair twice weekly with a protein shampoo
every two weeks deep conditioner with heat
NO heat styling
Regular perms every 6-9 weeks
NO chemicals other than relaxers including semi colour
Hair trims 2-3 times a year
Elementz Hair Care
| | |
| --- | --- |
| Posted on January 6, 2018 at 7:07 AM | |
Black Hair Typing with the Mizani Curl Key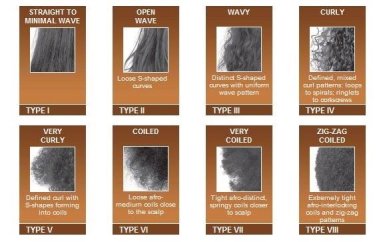 So, What's Your Type?
Have you looked at the characteristics of the black hair types and figured out which one you have? Hair typing is about natural black hair types,
The shape of your hair follicles is what determines how much or how little curl your hair has. The rounder the follicle, the straighter hair grows; while the flatter the follicle, the curlier hair grows.
A single head can have several different textures in it. Always use tips and products designed for the dominant texture you have.
Hair Care Tips by Type
I've learned a lot about caring for black hair types and what stands out to me the most is the fact that all of them don't thrive on the same things. A product that works well for one hair type might be the downfall of another.
After years of reading what black women have said about what does and doesn't work for them, here's a summary of top tips I've seen for each category and how you can use them to care for each of the black hair types.
Type 2 - Wavy Hair
On the surface Type 2 hair seems easy to handle and care for but it comes with its own set of issues.
Clients of mine have this texture and there biggest complaint is puffy, frizzy and flyaway hair. Other issues too like the dull look and coarse feeling the hair gets sometimes.
The remedy I found that really works is to hydrate each strand properly and manipulate the hair as little as possible. If you have wavy hair these tips should work for you too.
Styling Tips for Wavy Hair
·         Use moisturizing shampoos, deep condition and use a leave-in to infuse moisture regularly.
·         Invest in a good boar bristle brush to keep your waves smooth.
·         Use a light moisturising hair gel or serum to add definition to your waves.
·         After washing don't comb or brush your hair as it dory's to keep frizzing down.
·         Gently scrunch your hair with product as it dries to encourage wave formation.
·         If you need to dry your hair quickly use a blow dryer on a low setting with a diffuser attachment.
·         Get trims regularly because split and damaged ends prevent wave patterns from forming properly.
Type 3 - Curly Hair
A healthy head full of big soft curls just screams fun to me, but based on what I've observed first hand it can be a real challenge.
Most of my clients has this hair type and is always upset about dryness, breakage and problems with humidity puffing their hair out after spending an hour straightening it.
In my opinion, committing the number one sin for Type 3's which is constantly fighting the natural curl pattern. Wearing it sleek and smooth, straightens it regularly and staying away from water to keep it from reverting. The combination of heat and infrequent washes and deep conditioning is a big no-no for curly heads.
Curly hair has a tendency to grow 'up and out', and if you're not careful will turn into a huge poufy afro. Nothing's wrong with that unless it's not exactly the look you're going for.
Products for Curly Hair Control
The key to taming your curls is going heavy on the moisture.
Hair puddings, custards, butters, crèmes and gels work wonders for this hair type (and sound delicious if you ask me).
These products not only hydrate the hair making it smooth, shiny and soft, but it also help to weigh it down so that it hangs and stretches instead of puffing up.
Styling Curly Black Hair
If you're a lady with curls use these tips will revive those soft pretty ringlets.
·         Only use wide tooth combs, in fact the wider the better.
·         Use a moisturizing shampoo, deep conditioner and heavy leave-in every time you wash your hair.
·         Use conditioner only washes regularly to keep your hair properly hydrated without stripping it.
·         Always apply styling product to soaking wet hair for defined curls.
·         Never use a towel to dry your hair. For the best curls allow your hair to 'drip dry' or blow dry on a low setting with a diffuser attachment instead.
·         To reduce frizz don't brush your hair and be sure to moisturize daily.
·         Get your hair cut by a curly hair specialist. The right shaping technique brings this texture to life and makes the curls really pop.
Type 4 - Coily and Kinky Hair
Even with the variation in this group there are certain shared features as well as tools, products and styling tips all of them can benefit from.
Type 4 textures tend to be dull with very low sheen and can amazingly shrink up to 80% of its true length. It's notoriously known for being the driest and most delicate of all hair types.
A common myth is that this hair type can't grow very long. Well, I'm here to tell you that it not only is it possible, it's actually not hard to do.
How do I know? I'm a 4 and I've grown my hair to mid-back before.
Hair Products for Type 4 , 5, 6, 7 and 8
This texture tends to be on the dry side, so focus on infusing and retaining moisture.
Moisturizing shampoos, deep conditioners and leave-ins aren't only good but essential for this type. Any product that hydrates and seals the hair is a must have. Hair butters, natural oils and moisturizing hair gels are popular for maintenance and styling.
Hair Tools and Styling Techniques
This hair is easily damaged by rough handling, heat and chemical applications. It might look like it can stand up to anything but one wrong move can set you back months or even years from damage.
A few invaluable tools for caring for this hair type are seamless combs, a soft boar brushes and a satin bonnets and pillowcases.
When it comes to styling this hair type less is always more.
·         Always use a wide tooth comb, your fingers or a hair pick to detangle.
·         Always detangle from ends to roots, preferably with wet hair coated with conditioner.
·         Wash and deep condition once every week or two and bathe your hair and ends in hydrating moisturizers daily.
·         Handle your hair gently and always put aside enough time so you don't have to rush.
·         Keep the use of heat styling tools down to a bare minimum.
·         Wear protective styles where you don't have to comb or manipulate your hair for a week or more at a time.
An Important Fact about Black Hair Types
A question I see a lot is "Can I change my hair type?"
If you've been wondering the same thing the answer is no. Hair type is a genetic trait and your DNA is something that can't be changed.
That's the reason why when you get a relaxer you have to get touch ups every so often. You can change and alter the hair that's already grown out as much as you want but it always grows back the way your DNA programs it to.
Here is a list of tools and hair care products I recommend you get to begin the care of your hair.
Wide toothed & fine toothed comb
Wide toothed combs are usually used to detangle hair; they are also a handy tool for those who have medium to thick hair. If your hair is on the thinner side then a fine toothed comb is your best ally.
Rat tail comb
The rat tail comb is used to part or style hair neatly. You must have seen your hairdresser use it deftly when you go for haircuts. The hair brush gives a smooth gleam to the hair, it is also used to add volume and detangle, and comes in a variety of options.
What is the best hair brush to smooth the edges of curly, kinky hair?
The best type of brush to smooth curlier edges (hairline) is a boar bristle brush, "The bristles are soft enough to where it won't damage the hair, but dense enough to smooth short hair," she explains. 
I recommend applying a small amount of a styling cream to your edges and then use a bristled brush to smooth. 
Create your perfect style with the Wahl Power pik hair dryer. It is ideal for drying Afro Caribbean hair types as the pik attachment allows the hot air to be distributed throughout your hair. With 3 heat and speed settings and a cold shot button, this dryer has all the settings you could need for amazing results and healthy looking hair.
Routine
Its important that you establish a routine that best suits best your lifestyle. Consistency with using hair care products will maintain the health of your hair, you will soon see the improvements of the hair quality which will make managing you hair on a daily bases 100%  easier.  Its recommend that you use a hair dress every night and cover your hair with a silk scarf.
Categories: hair advice
/